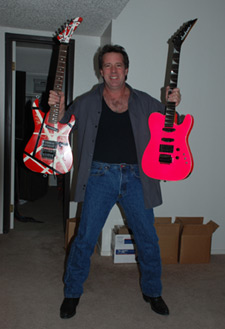 Derek and his favorite guitar.
A vintage Van Halen autographed guitar, signed by Eddie and Alex Van Halen,
Michael Anthony and Sammy 'The Red Rocker' Hagar.

*Please Note - We Appreciate all of your emails, and for all the love,
but because of the amount we receive we can not respond to them all.
If we did, Derek would have no time to work. And always remember Cool Cat Loves You!
- MEDIA INQUIRES - Please Note that in Email Title -
Cool Cat Productions